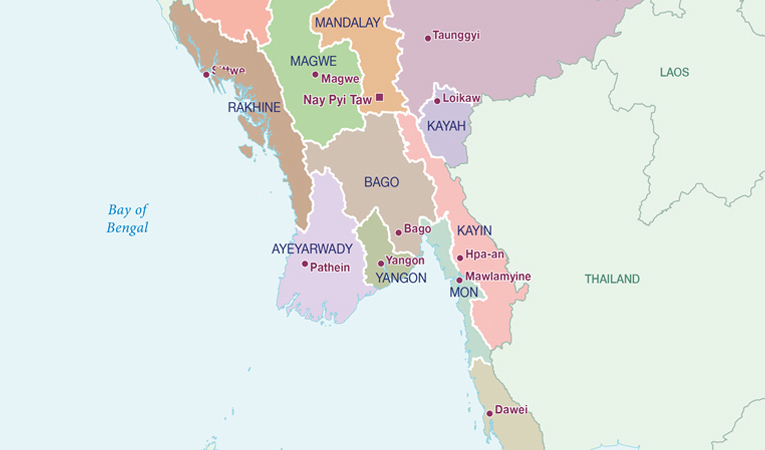 About Myanmar & Mon State
Myanmar is indulged with natural beauty, ancient pagodas & rich natural resources since time immemorial. It is bordered by India, Bangladesh, China, Laos & Thailand.

Mon State is one of the division of Myanmar, connected Kayin on the East, the Andaman Sea on the West, Bago on the North & Tanintharyi on the South, & a short border with Thailand's Kanchanaburi Province at its South-Eastern tip.

Mawlamyine is the third Capital City of Myanmar with nice weather, beautiful landscaping and historical Pagodas. It is situated in the Thanlwin River delta, where the mouth of the Thanlwin is sheltered by Bilugyun Island as it enters the Gulf of Martaban and the Andaman Sea. It has complete communication & transportation system via Highway, Railway, Airport & also with harbour. Thanlwin Bridge is the longest road and rail bridge in Myanmar. Mawlamyine is connected to Hpa-an in Kayin State, Yangon across the river & Dawei in the lower.

It has small islands, such as Kalegauk, Wa Kyun & Kyungyi island, along its coastline. It can communicate to other Country by Sea & also to local Cities within Myanmar by Mother Ayeyarwady (Irrawaddy).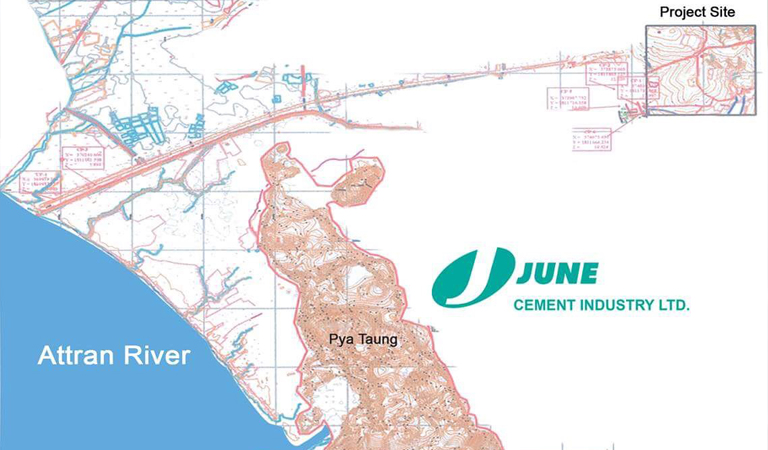 About June Cement
JUNE Cement Industry Ltd's Cement Factory Project is located in Kyaikmaraw Township, Mawlamyine City, Mon State, at the bank of Attran River which is 130 meter wide and 15 meter depth in average.

Pya Taung limestone deposit is located within 5 km away from the factory site with qualified limestone (CaO 52.69%, MgO 1.35%, SiO2 0.71%, R2O3 0.31%). Mon State is mostly organized by Laterite. Gypsum can be supplied by Thipaw and Kayin State.

Coal can get not only from local but also from Indonesia via sea freight. CO2 fixation from industrial exhaust gas by microalgae is part of the project for Green Field Environment.

We can use Irrawaddy River to our targeted market with reasonable transportation cost.

Myanmar needs a lot of cement in the near future for developing infrastructure and booming business. So, PyaTaung is one of the good locations for cement factory project.